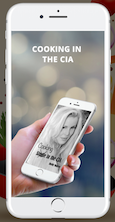 What does a former CIA officer do once she's no longer a CIA officer and has a family of her own? She writes multiple CIA-inspired books, invents a baby product, goes crazy with a music album (followed by releasing singles), builds an app and writes children's picture books and a chapter book series for young readers, of course!
BurpMitt® products consist of super-absorbent, organic cotton products for baby and home. Mommy's Gone Mad! is a comical music album for small children and parents of small children. The children's album led to working on some more adult music singles. Cooking in the CIA is an app with recipes gathered from years of entertaining and world travel.
If you are interested in ocean health and cleaning up our waterways of plastic pollution and biomass, please consider purchasing a WasteShark, a TenderShark, or a MegaShark. RanMarine also has leasing and sponsorship opportunities for these Roombas for the ocean. I am a referral agent for all of the products, so tell them Shelly Mateer sent you! You can also contact me for more information.
You can read more about each one here:
If you would like to purchase a BurpMitt® product, you can find them on Amazon.
Cooking in the CIA is available on the App Store.
Mommy's Gone Mad! (as well as the other singles) is/are on Spotify, Deezer, Tidal, Google Play Music, Amazon Music, YouTube Music, Napster and more!