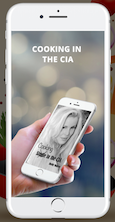 What does a former CIA officer do once she's no longer a CIA officer and has a family of her own? She writes multiple CIA-inspired books, invents a baby product, builds an app and writes a children's picture book, of course!
BurpMitt® products consist of super-absorbent, organic cotton products for baby and home.
Cooking in the CIA
is an app with recipes learned from years of entertaining and world travel.
If you would like to purchase a BurpMitt® product, please visit
the BurpMitt® product line shop. 
You can also find BurpMitt® Products on Amazon!